7th Generation Intel® Core™ Processor Family
Unprecedented power and responsiveness, paired with easy, built-in security, means you can work, play, and create as quickly and seamlessly as your heart desires. Plus, by enabling superior 4K resolution, 7th Generation Intel® Core™ processors will have you feeling immersed in gaming and entertainment like never before, whether at home or on the go.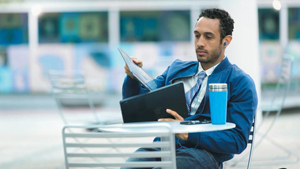 LIGHTNING RESPONSIVENESS
With new 7th Generation Intel® Core™ processors, your PC will meet every demand quickly and seamlessly – get 0.5 second wake with Windows* Modern Standby and Intel® Ready Mode Technology (Intel® RMT), and rapidly switch between applications and web pages with Intel® Speed Shift Technology.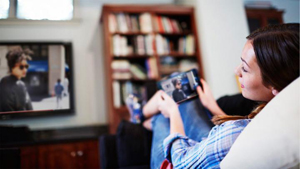 TRULY IMMERSIVE ENTERTAINMENT
Enjoy the brilliant hi-def viewing experience with the clarity and sharpness of 4K resolution. Stream 4K Ultra HD content from multiple content providers, conveniently create and edit 4K video 8x faster1, and experience interactive, smooth 4K Ultra HD 360 video playback. Plus, seamlessly play popular game titles at 720/Medium settings at 30 FPS.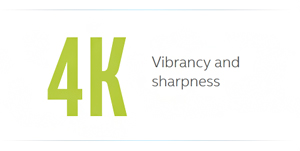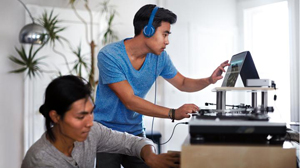 LIGHTER AND LONGER-LASTING
Work, play, and create longer on a single charge. Enhanced battery life gives you the freedom to operate untethered up to 10 hours2, plus a thinner, lighter device makes mobility easier than ever. Even watch up to 9.5 hours of Ultra HD 4K video on a single charge.3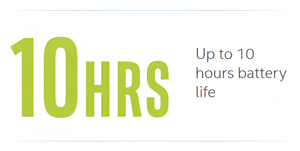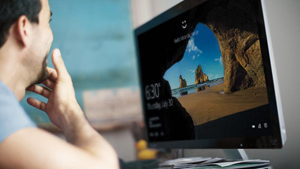 WORK EFFORTLESSLY
Take your productivity to the next level with a high-performance PC featuring effortless multi-tasking between apps. Facial and fingerprint recognition make logging in a breeze, while Windows Hello* provides hassle-free password management. Add in stress-free startups and ultra-thin devices, and it's a PC that's ready to go when you are.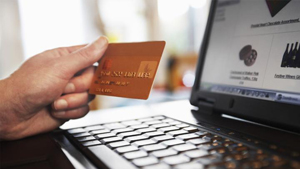 SIMPLE AND ROBUST SECURITY PROTECTION
Shop and browse more securely and easily knowing that your information is protected. Traditional security solutions use software to protect your passwords leaving your PC open to potential vulnerabilities. 7th Generation Intel® Core™ systems provide peace of mind by encrypting and storing your passwords and payment information in the hardware, accessible only with a master password4 or biometric credential like a fingerprint.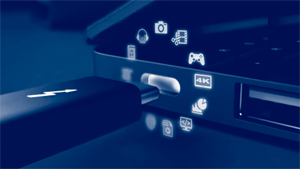 ONE PORT THAT DOES IT ALL
Connect to everything with supported Thunderbolt™ 3 technology; your screen or display, mouse, keyboard, and even your AC power adapter. Get USB-C speeds up to 40 Gbps (compared to only 5 Gbps with USB 3.0) delivering the fastest, most versatile connection to any device.
Product Brief: 7th Gen Intel® Core™ Desktop Processors
ACCELERATE PERFORMANCE WITH 7TH GEN INTEL® CORE™ PROCESSOR FAMILY
All-new performance. All-new experiences. An all-new computer.
Are you amazed by the things you can do with your computer? If you bought your computer more than a handful of years ago, you're missing more than you know – uncompromised gaming, while you stream, chat and share with your community – stunning visuals of Ultra HD 4K HDR premium content – transport into a great VR experience. With premium performance and new & enhanced features, a desktop computer based on a 7th Gen Intel® Core™ processor is always ready for real-life productivity, creativity and entertainment. With a range of smart, stylish designs and sizes, there is a 7th Gen Intel Core processor-powered desktop computer to fit a wide range of budgets and needs.
Performance to Excite
Leading the pack is the Intel® Core™ i7-7700K processor. Architected for performance, this processor packs 4 high-performing cores with core base frequency of 4.2GHz and 8MB of cache memory. Kick up the performance even higher with Intel® Turbo Boost Technology 2.0 to bump the max turbo frequency to an amazing 4.5GHz. Add Intel® Hyper-Threading Technology for 8-way multitasking to deliver the performance knockout punch. Not enough? For the enthusiast, this processor is unlocked, you can tweak the performance to its fullest potential.
The new 7th Gen Intel® Core™ desktop processors deliver:
An impressive portfolio of standard and unlocked processors, from Intel® Core™ i7 to Core™ i3, offering levels of performance for a broad range of usages.
Intel® Optane™ memory with intelligent software provides performance improvements as well as fast app response times for system acceleration and responsiveness.5
Intel® Turbo Boost Technology 2.0 on Intel® Core™ i7 and i5 processors to give that extra burst of performance when you need it.5
Intel® Hyper-Threading Technology1 allows each processor core to work on two tasks at the same time, improving multitasking, speeding up the workflow, and accomplishing more in less time.
Extends DDR4 RAM memory technology in the mainstream, allowing systems to have up to 64GB of memory and high transfer speeds at low power compared to DDR3 (DDR4-2400 MT/s @ 1.2V vs DDR3-1600 MT/s @ 1.5V).
Enhanced full range base-clock settings1 that provide more control, more granularity for overclocking4 your platform - when paired with the Intel® Z270 chipset, that also allows you to tune key aspects of your system including cores, power and memory.
Experience to Amaze
7th Gen Intel® Core™ processor-based desktop PCs are packed with new and enhanced features to deliver amazing experiences that a 5-year old PC can't handle.
Great VR experiences involve the entire platform – not just any one component. Processor, graphics, I/O connectivity, display, audio, are all involved. A high-performance processor is key to achieving a balanced platform to make a VR experience great. Attach your premium HMD to an Intel Core i7 or Core i5-based computer and prepare to be amazed.
Gaming experience today extends beyond smooth gameplay. Gaming today is about you and your community. Share your experience by live-streaming or recording, editing and posting your epic highlights. To be at your best, you need the best performance PC, powered by the Intel® Core™ i7 processor that lets you live the ultimate gaming experience.
To play premium movie streams in stunning Ultra HD 4K, you'll need a computer that supports the latest media technologies. Desktop computers based on the 7th Gen Intel Core processor can support the latest media technologies required to enjoy premium high-quality content:
HEVC 10-bit encode/decode, VP9 10-bit decode for:

Smooth streaming of premium 4K entertainment
Full-size screen, immersive viewing experiences with 4K video and 360° viewing
Incredible 4K video creation to share with ease

Support for Rec.2020, delivering wide color gamut (WCG) for lifelike, deeper color5
Watch 4K HDR movies with Ultra HD Blu-ray for brilliant clarity and luminance5
Intel® Quick Sync Video technology accelerates most video capabilities, allowing users to create and share in real time and multitask without interruption.
Hardware-Based Features Mitigate Threats
7th Gen Intel® Core™ processors offer hardware-level security features that strengthen the protection of your enabled security software. Hardware-based security to help you compute with greater peace of mind. Security features include:
Intel® Software Guard Extensions (Intel® SGX) that help applications protect your system and your data.
Intel® Memory Protection Extensions help protect application's run time integrity.
Intel® Device Protection Technology with BIOS Guard and Intel® Device Protection Technology with Boot Guard help protect your system during boot.
Intel® Platform Trust Technology provides a critical component to help in protecting your system boot integrity.
Scalable Portfolio of Processors
The 7th Intel® Core™ Core desktop processor family delivers significant value and is a great investment in your success. From the i7-7700K to the i3-7100, there is a processor to fit a wide range of budgets and needs, from the performance-hungry professionals to the first- time buyers. If form factor is your priority - the 7th Gen Intel® Core™ desktop processor family offers a range of processors designed for PCs from the high-performance gaming towers to the sleek and stylish living room minis.
7th Gen Intel® Core™ desktop processors are raising the bar with all-new performance and all-new experiences. Explore all the amazing things you and a new 7th Intel® Core™ Core-powered computer can do.
Features at a Glance
Technical details
Socket type
LGA 1151
Intel i7-7700 7th Gen Core Desktop Processors (BX80677I77700 )
Brand: INTEL
Product Code: BX80677I77700
Availability: 1
Qty: 1
Related Products